Residential property: your options for a winning investment
At a time when savings accounts are no longer producing profits, many savers are wondering what the best possible investment for their savings might be. Real estate remains a safe bet, but access to property has become increasingly difficult because of rising prices, which have rocketed even higher thanks to the pandemic. Moreover, banks are becoming more and more cautious.
Therefore, young savers who have accumulated a small amount of capital may be reluctant to take the plunge into property investment, or even be barred from doing so.
Even so, there are many different ways to invest in residential property. Many of us are not really aware of the options available.
To shed some light on these options, Home Invest Belgium has taken a look at the performance of the property market over the past ten years. Our goal: to examine in detail the financial performance of various real estate investment scenarios for savers with initial capital.
(This text is not investment advice and past performance is no guarantee of future results.)
Situation and initial assumptions
First purchase
Capital available: €40,000
Brussels-Capital Region
Investment horizon: medium to long term (minimum ten years)
Reference years: 2011-2021
Property value growth rate according to Statbel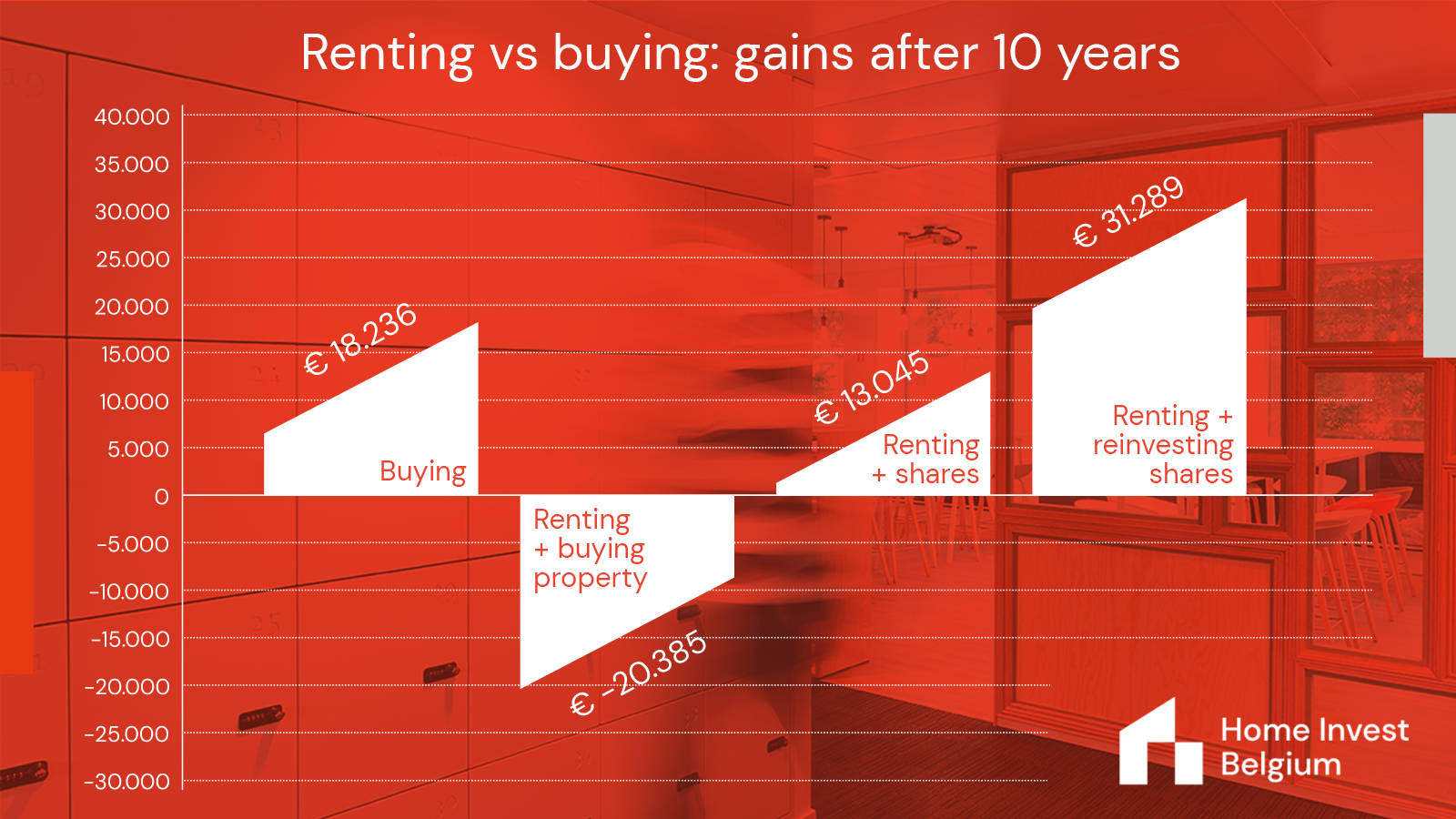 Scenario 1
I am buying an apartment in the Brussels-Capital Region to live in
First of all, you will have to pay notary fees (1%) and registration fees (12.5% of the value of the property) out of your own funds. Take note, however, that the Brussels-Capital Region grants you a tax deduction on the first €175,000. The amount of money you spend on these fees will therefore be greatly reduced.
To take out your first mortgage loan, your bank will require a personal contribution of at least 10%.  They will give you a 20-year loan at – say – an interest rate of 1.4%. In the end, based on your personal contribution and these bank conditions, you can expect to buy a property worth up to €263,000.
Each year, you will then have to pay the property tax, insurance and maintenance costs, and the capital and interest repayments.
Evolution
Ten years later...
Based on the growth rate of the property value over the last ten years, as established by Statbel, you could expect to sell your apartment for €337,410. Once you have paid the bank the balance of the capital owed and deducted all the fees, monthly payments, and penalties, your profit margin will be €18,236. Over ten years, the capital gain from the resale of the house will have more than justified the investment.
Scenario 2
I continue to rent the apartment in which I live and invest in another property
You may not find the property you dreamed of living in, but still want to use your €40,000 savings to buy a smaller property to rent to someone else.
This time, the bank will require a 20% down payment, necessary for the purchase of an apartment to rent. This will reduce your investment possibilities to a maximum of €135,000. This is enough to buy a studio apartment in certain Brussels municipalities only, as others are unaffordable.
In this case, you will, of course, continue to pay rent for the flat you live in, which we estimate here at €568 in the first year. On the other hand, you will have received a monthly rent from your tenant, estimated at €520 in the first year. Each of these amounts will be regularly indexed.
Evolution
10 years later...
The studio apartment in which you have invested will have increased in value. Given the rate of growth in property value over the period, it could be valued at €153,000. You have also received recurring rent from your tenant.
On the other hand, there are other significant costs in addition to your own rent. The studio you have rented out is subject to property and other tax, insurance costs, in addition to the insurance costs you already pay as a tenant.
In the end, all these expenses will have wiped out the financial performance of your investment. If you resell the property ten years later, once all the rental income and costs have been taken into account, your final margin will be minus €20,385. The main reason for this? Your studio will not have increased in value compared to the sum of the rents you had to pay over these ten years.
Scenario 3
I continue to rent the flat I live in and invest my initial capital in Home Invest Belgium shares
You can also choose to rent and invest your capital in real estate via Home Invest Belgium shares. 
Let's take a look at the case where, for 5 years, you opt for a studio apartment that you rent for €520 per month in the first year. This will be regularly indexed. Over time, your need for space has increased. Five years later, you move into a larger home, rented for €610 in the first year, and then indexed again.
As you have not invested in a studio as in scenario 2, there is no bank loan to pay back. Year after year, you invest the amount corresponding to these 'non-repayments' in Home Invest Belgium shares. These shares pay you dividends, which you receive by paying a movable property tax.
Evolution
Ten years later…
As we saw in the previous scenario, the type of property in which your initial amount allowed you to invest did not allow you to really benefit from the growth rate enjoyed by the housing market over the last ten years. However, by investing via the regular purchase of Home Invest Belgium real estate shares, you will indirectly benefit from the good health of the real estate sector year after year.
In the end, your profit margin will be just over €13,045. Investing in Home Invest Belgium shares is therefore more profitable than investing in a studio apartment.
Scenario 4
I continue to rent the flat I live in and invest my initial capital in Home Invest Belgium shares. I do the same with the cash I have year after year
Unlike the previous scenario, let's assume here that you have reinvested the annual dividends from your Home Invest Belgium shares back into these same shares, rather than receiving dividend payment.
Evolution
Ten years later…
Investing in real estate via Home Invest Belgium rather than in a property with limited growth potential has proven to be an extremely successful strategy.
By trusting firmly in the good health of Home Invest Belgium shares and systematically reinvesting your dividends in them, your investments will have produced even more in comparison to the purchase of a property in which you would have lived. In fact, your profit margin will ultimately amount to almost €31,289.
You don't have any initial capital? Take good note of this…
Even if you don't have any capital and you have been a tenant for the last ten years (under the same conditions as in scenario 3 above), you can still benefit from the returns produced by residential property.
How is that possible?  Firstly, by investing the amount not spent on repaying a loan, on withholding tax, and insurance related to the purchase of property in Home Invest Belgium shares. Secondly, by systematically reinvesting the annual dividends generated by the shares. This strategy – as our study shows – would have earned you €38,891 over ten years (i.e. the sum of the capital gain on the shares and the dividends, minus the withholding tax to be paid on their resale). This is more than half the amount you would have spent on rent and other rental costs (€73,358).
Conclusions
There are several ways to benefit from the returns on residential property, depending on your personal situation.
Even with limited capital, can you make your first property investment? Is your desire to be a homeowner driving you to buy? You should buy a property to live in!
Does the capital you have at your disposal not allow you to buy the property you need to live in, meaning you'll remain a tenant? Think twice before investing your savings in property to rent… The returns obtained by Home Invest Belgium shares in recent years have proven to be far more profitable. They are based on the same fundamentals that you believe in: steady and solid growth in the rental property market.
Would you like to benefit from the uninterrupted growth in real estate yields but can't or don't want to buy your own home? Make the most of your capital by investing in Home Invest Belgium shares. You will benefit from the attractive and secure returns historically earned in the sector, without having to devote the time and resources required to managing a property you would own yourself.